Joe McCall and Dan Schwartz founded RealAutomation.biz to make other real estate investor's lives much easier. They both practice what they preach, and have built tried and true systems to make it possible to automate the day to day operations of real estate investing so you can focus more on building relationships, and closing more deals. 
Joe McCall
An avid family guy, who enjoys hanging out with his kids at the zoo, or golfing with his boys, or swimming with his girls in the pool.  Nothing is more important to Joe than God and family.
Joe has flipped over 100 deals and helped students flip 100's more.  He loves doing deals and coaching students to do the same.  He has been fortunate to receive more student testimonials than he can count.
He invests virtually in multiple markets.  He loves creating automated marketing systems.
While living in Prague, Czech Republic for two months, his team of Virtual Assistants flipped two lease options (in St Louis) – without him ever talking to the sellers or the buyers.
Joe says that the great thing about this business is that he gets the privilege of working wherever and whenever he wants – from home, from Starbucks, the pool, a condo in Colorado, a coffee shop in Prague, a farm house in Ireland – wherever!
He has a highly rated podcast, The Real Estate Investing Mastery Podcast.  Check it out in iTunes, Sticher, or TuneIn Radio.
He also wrote a #1 Kindle book, "Making Extra Money Flipping Houses While On Vacation".
If you're interested in his course, Wholesaling Lease Options, Click Here.
To see some testimonials about people that have worked with Joe, Click Here.
Dan Schwartz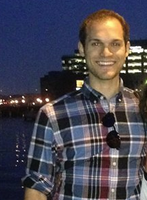 A musician, wholesaler, and systems ninja who enjoys wearing sunglasses, eating Sriracha, traveling and being with his family and friends. Dan passionate about showing others how to achieve true and lasting freedom in their lives through automation technology and delegation. 
Dan has done well over 100 real estate deals in his hometown of Baltimore, MD since 2011. During this time, he was touring the country playing music in the band Pigeons Playing Ping Pong, entertaining fans behind the drums playing high energy funk music.
Being on the road forced him to build systems for marketing and lead management so that his team can successfully execute deals back at home. Podio is Dan's weapon of choice for lead management, and now he helps others setup systems in their business that can enable more freedom for others to pursue activities they most enjoy.
Dan teaches a course on Private Mortgage Lending that you can use to show potential lenders about how to invest for solid returns through self-directed IRAs.
Connect with Dan on Twitter
Connect with Dan on Facebook